(Click on logo for company web site)
90° Einlaufsystem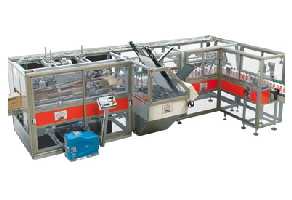 In order to simplify product turning and feeding operations Baumer has designed, patented, and produced a special 90° feeding system that enables production with a range of containers in a very small space.This special system allows for continuous feeding using a rotating push/turn device that guides the product without pressure while keeping a steady speed.
This patents main characteristic is the ability to work rectangular, oval(oid), and other shapes - even particularly unstable containers - without using a cumbersome divider to lane the products. Consequently, the machine is very compact.
Finally, the 90° feeding system is usable with machines shrink-wrapping with film and allows for the incorporation of two or more production lines as it enables production at a speed of 24,000 bph.
ADVANTAGES
Extremely compact machine
Usable with shrink-wrapping, wrap around and combined machines
Continuous feeding of the 90° infeed system controlled by brushless motors
Ability to work at high production speeds
No need for dividers to lane the product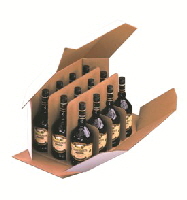 Partitionen
Baumers Wrap Around cartonning machines can be equipped with a system for the insertion of partitions in order to meet all packaging/shipping requirements. Baumer proposes two systems for partition insertion.

Non-assembled partitions
Baumer has patented an exclusive system of inserting non-assembled partitions from below, which offers the customer various advantages:
significant costs savings through the use of simple flat cardboard pads instead of pre-assembled partitions.
convenient and safe loading of low level cardboard magazine.
production speed of up to 65 cartons per minute.
The ability to pack products in larger configurations (e.g. 6x4).
No label damage.
Preformed partitions
Baumer engineers have designed a rotating preformed-partition insertion system enabling the achieving of production speeds twice that of standard robotic solutions.
The partitions are picked up by suction cups and are guided until their insertion among the bottles thus avoiding any label damage.
Automatischer Folienrollenwechsel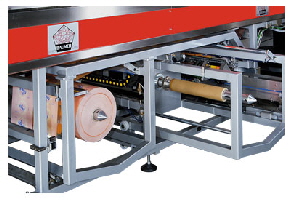 This system boasts five international patents defined as "highly innovative". This is the only non-stop production system and it enables automatic change of the film reel without operator assistance or attendance, with no film welding, and at production speed.
The main features characterising this innovative system with regard to savings in production are non-stop production, extraordinary versatility, and extremely precise film cutting that furnishes a saving of more than 15% on raw materials.

ADVANTAGES
Production efficiency dramatically increases since the line is not stopped nor slowed down due to a reel changeover, which is made at production speed
More than 15% saving on raw materials thanks to both the film thickness and width reduction. Moreover, the reel is used to the end thus avoiding any waste of film
No film welding during the reel changeover
Usable both with plain and with pre-printed film
Tray mit Deckel
The Baumer range includes a special system to pack products in tray & lid closed on two or four sides.
This new type of packaging allows a cardboard saving and offers the customer the opportunity to display the products in different ways at point of sale.
This tray packer can also pack in wraparound cartons and with shrink-wrap film thus giving the customer maximum versatility.
ADVANTAGES
Flexibility in production and the ability to create convenient packaging types for retail outlets
Easy opening of the pack
The potential to also pack in wraparound cardboard and in shrink-wrap film with the same machine
Top Tray
Baumer recently designed and built a shrink wrapping machine equipped with a special system for inserting a plastic top-tray around the bottle's neck. This system is suitable for different types of product and can pack in various configurations (3x2, 4x3, etc).
This system enables the creating of multipacks in twin and triple lane also, without using film. The same machine can then load the produced multipacks into a tray or shrink-wrap them with film only, thus producing a 24 bottle final pack of 4 multipacks.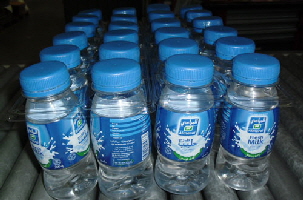 BM Band
Baumer's patented BM BELT system allows for creating different packaging types with one only machine (e.g. film only, tray and film, flat board and film and wrap around) rapidly and completely automatically.
The system uses a motor-positioned conveyor belt, which is integrated into the machine and whose function is to exclude the chains that transport the cardboard blanks thus enabling change-over from wrap around to film only configurations in a short time. This belt can be completely controlled from the operator panel and automatically positioned during format changeover operations without operator intervention.
This system makes Baumer machines even more flexible, offering the customer production flexibility that was not possible before.
ADVANTAGES
Flexibility for producing various types of packaging
Completely automatic system to change from film only to wrap around carton or tray and film
Ability to pack both loose products and multipacks
Stapler
Baumer provides different types of stacking systems according to the product to be packed:Â
Stacker for loose products (pots on pots)
Stacker for traysÂ
Stacker for flat boards
The stacking system runs uninterruptedly without stopping the products thus granting higher production speeds and greater reliability.
Gerne stehen wir Ihnen für Ihre Anfragen und für persönliche Beratungsgespräche in Ihrem Haus zur Verfügung.